Adaptec Building Solutions offers products & services across en re spectrum according to client's requirements in Aluminium Formwork. Projects that require Aluminium Formwork System, can trust Adaptec Building Solutions as a reliable and cost efficient partner for the best results.
Our Manufacturing unit is equipped with modern machineries, technical experts and experienced workforce.
We offer innovative, me saving & op mum solutions to our clients. As of now we have successfully executed projects for some of the renowned names in construction industry spread across the country.
Our USP remains quality, technical expertise with complete Formwork Solution in a cost effective manner under one roof.
Company Focus
Strict quality norms in terms of grade of raw material being procured from renowned vendors i.e. 6061 (T6) for extrusions, 5052 (H32) for sheets, 5356 (1.2 mm) for welding wire that ensures best Quality, Strength & Life to Adaptec Building Solutions Formwork System to stand between 150­200 Repetitions.
Designs are made in extremely simple manner that enables even unskilled workforce to understand it and execute the installation of formwork in a seamless manner. Closely working with the client from Formwork design till Installation helps in substantial saving
which allows us to have a long term association with all our clients.
We are a customer centric organization, committed to offer only quality products to our clients spread across. Our ethical business dealings have helped us to acquire a major clientele within a short span of time.
Our practices and focus on Quality help us to retain loyalty of our existing clients and focus on their needs with end to end guidance remains the key to our success
Products and Services
Designing of Aluminium Formwork System Manufacturing of Complete Aluminium Formwork System.
Column & Lift core formwork system
Stair Case Formwork
Slab Formwork
RFID for better asset management of formwork
Formwork accessories
Redesigning of aluminium formwork
Refurbishment / Modification of existing formwork
Designing of Aluminium Formwork System Manufacturing of Complete Aluminium Formwork System.
Column & Lift core formwork system
Stair Case Formwork
Slab Formwork
RFID for better asset management of formwork
Formwork accessories
Redesigning of aluminium formwork
Refurbishment / Modification of existing formwork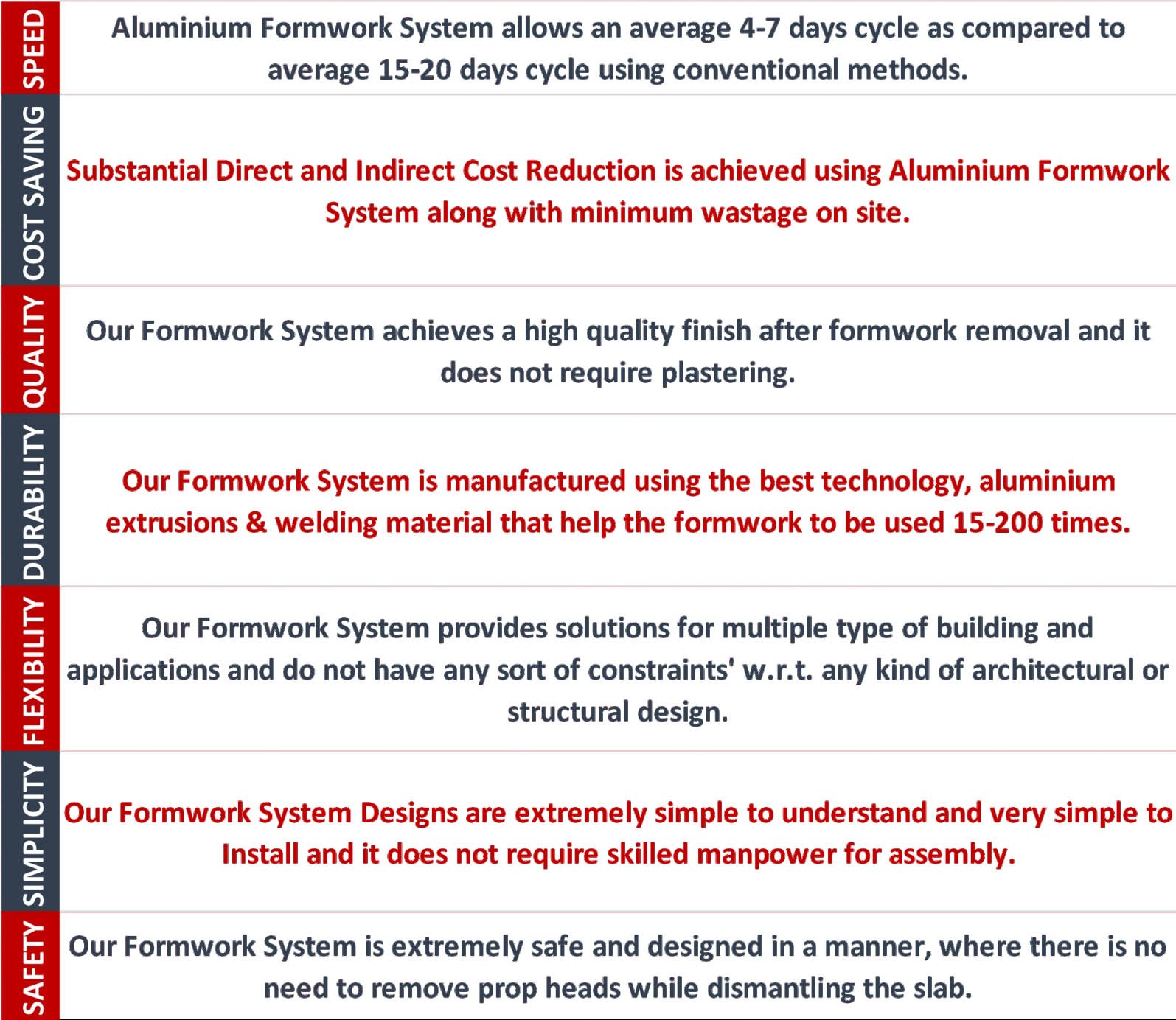 Comparison between conventional shuttering & our Aluminium Formwork
S.No
Characteristics
Conventional Shuttering
ABS Aluminium Formwork
1
Material
Plywood, MS, Timber
Aluminium Alloy 6061 (T6)
2
Cycle Time
15­-20
4-­7 Days
3
Able to Cast Walls, Beam & Slab at
One lift
Not Possible
Possible
4
Dismentaling Slab without Disturbing
the Props
Not Possible
Possible
5
Requirement of Skilled Manpower
Required
Not Required
6
Requirement of Plaster
Required
Not  Required
7
Recycle/ Scrap Value
Very Low
Very High
Construction Method
Application

Single Storey

Double Storey

Three Storey

High Rise

Conventional Bricks
Most Common, Slow & labour intensive
Usually Not Acceptable without Column Beam
Not Suitable Structurally, as Requires Concrete Structural Elements
Not Suitable Structurally
Concrete Frames with Bricks & Blocks
Most Commonly Used where bricks are not acceptable, Slow Method
Most Commonly Used method, Slow & Costly Compared to System
Method is UsedWorld wide which is slow and Costly and remains Choice for small builders but loses out on Mass / Large Projects against Formwork System
Precast / Prefab Concrete
Suitable for Large Projects, Ini al Cost is Very High for the Plant including Cost of Transporta on & LiPing as Compared to Aluminium Formwork System
Close Supervision is Required Specially for instability of Joints
Cast In-Situ Concrete Heavy Shuttering
Not Suitable as Requires too much labour & me to move the equipment from One House to another
Suitability increases in Propor on to height of the building & number of Flats. Not Suitable for Flats less than 300 Units
Aluminium Formwork
Cost Effec ve, Speedy, Efficient than all the above Methods.. Aluminum Formwork System is
light Weight, Durable, Flexible, Environmental Friendly & Extremely Simple for installa on