Services Offered
– Managing Formwork Materials
– Real Time Asset Tracking with RFID
– Monitoring Asset Usage and Product Lifecycle
– Ensuring Proper Handling of materials at site
– Ensuring Proper Storage of materials when not in use
– Ongoing Maintenance of Formwork Materials
– Planning of Materials & Consumables needed at site
– Redesigning existing Formwork as per new sites/ designs
Process
– New materials inward receipt and confirmation
– Assigning RFID's to new and existing materials
– Creating Data Sheet for each component containing minute details like usage, drawing, expected product life, actual on site condition etc.
– Implementing customized software as per customers' need after studying the information level the customer wishes to maintain and integrate the access of the data to their existing systems
– Proper storage of each component as per manufacturers' guidelines
– Implementing & Maintaining RFID Grids at yard to easily locate every component
– Issuing of materials to site after verifying the need and proper authorization
– Maintaining material issue data containing; site sent to, authorized by, indented by, expected number of uses at site, supervisor incharge at site of usage etc.
– Monitoring onsite usage & handling of materials including training if required
– Receiving back materials from site and updating data sheet
– Assessing actual condition of materials received from site
– Carrying out maintenance and refurbishment where needed
– Manage inventory across locations
– Receive alerts when unauthorized movement of goods takes place.
Specimen Software Structure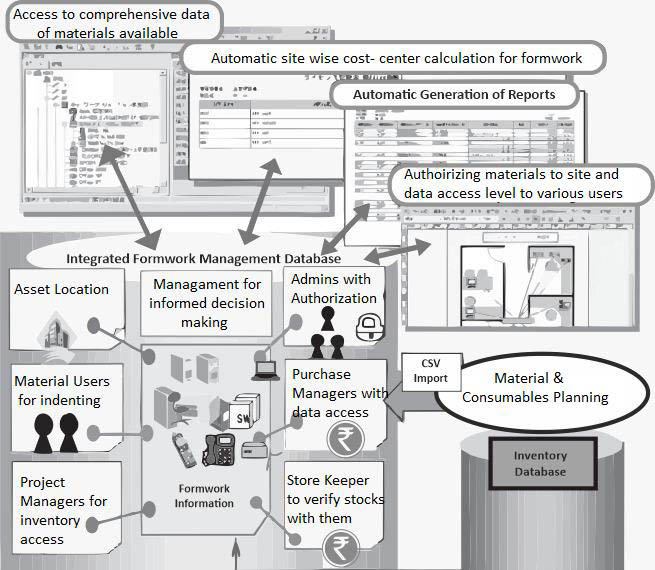 RFID
Code ABS01001
Location
Yard 1
QR Code
ABS1134
No of times usable
180
Component Name
Prop Head
No of times used
65
Usage
Slab Formwork
Actual Condition
Good
Complimentary Product
MB, EB & Prop
Need fr Refurbishment
No
Supplementary Product
None
Last Used By
Site1
Supplementary Product
1.20 Kg
Supplementary Product
1.20 Kg
Advantages
It has been our endeavor to remove the challenges faced by management for their formwork. We have created a connected network providing you with data and analytics to aid you to make critical business decisions- faster. A connected environment provides Formwork Managers with real- time visibility that they need.
Some of the benefits are listed below:
– Informed decision making through access to analytical data
– Ease in planning of new materials/consumables required
– No loss of materials
– Ease of materials location tracking
– Real Time Asset Monitoring
– Proper Tracking of number of uses achieved
– Information on optimum utilization of materials
– Site- wise cost center for formwork materials
– Ongoing maintenance thus resulting in higher product utilization
– Inventory Management
– Technical Support
– Quality Control
– Redesigning of materials means usage of existing materials for new sites thus reducing your costs
 About Us
We are a young and dynamic company with experienced professionals with more than three decade of experience in formwork industry.
We also manufacture various types of formworks such as:
– Aluminum Formwork
– Plywood Wall Panels Formwork for columns
– MS Formwork
– Table Formwork
We can cater to all your requirements of formwork right from; supplying new materials, maintenance, handling & storage, onsite usage monitoring, refurbishment and redesigning all under one roof.