Adaptec Building Solutions offers products & services across entire spectrum according to client's Requirements in Formwork. Projects that require Aluminum Formwork System can trust Adaptec Building Solutions as a reliable and cost efficient partner for the best results.
Our Manufacturing unit is equipped with modern machineries, technical experts and experienced workforce.
We offer innovative, time saving & optimum solutions to our clients. As of now we have successfully executed projects for some of the renowned names in construction industry spread across the country. Our USP remains quality, technical expertise with complete formwork solution in a cost effective manner under one roof.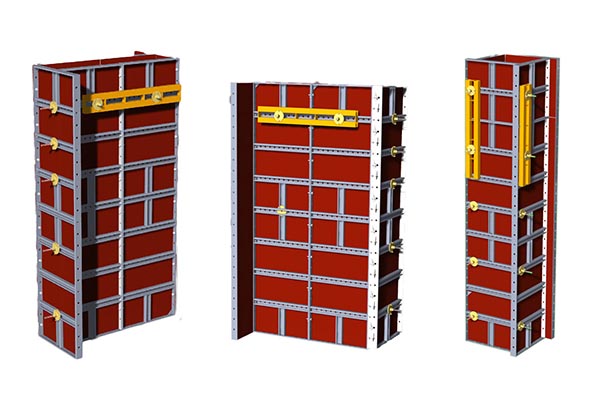 Company Focus
Strict quality norms in terms of grade of raw material being procured from renowned vendors that ensures best quality, strength & life to Adaptec Building Solutions formwork system to stand between maximum repetitions.
Designs are made in extremely simple manner that enables even unskilled workforce to understand it and execute the installation of formwork in a seamless manner. Closely working with the client from formwork design till installation helps in substantial saving which allows us to have a long term association with all our clients.
We are a customer centric organisation, committed to offer only quality products to our clients spread across. Our ethical business dealings have helped us to acquire a major clientele within a short span of time.
Our practices and focus on quality help us to retain loyalty of our existing clients and focus on their needs with end to end guidance remains the key to our success.
Products and Services
Designing of Adapset Column Formwork System Manufacturing of Adapset Column Formwork System RFID for better Asset Management of formwork Formwork Accessories.
Specification:
With working platforms as well as ladders
For square and rectangular sections from 100 mm x 100 mm up
To 600 mm x 600 mm in 50 mm increments
Same can be used for forming sheer walls
Larger cross-sections with additional ties
Height adjustments up to maximum 3.60 m in 100 mm increments with
3 different panel heights (0.60 m / 1.20 m / 2.40 m)
All the accessories can be commonly found in the market.
Maximum permissible fresh concrete pressure 80 kn/m²
With working and concreting platforms
Size of Panels:
Only three different element heights: 2.40 m, 1.20 m and 0.60 m.
These allow optimal adjustment to the required heights.
Different cross-section combinations permit rectangular or square configurations from 100 x 100 to 600 x 600 mm in 50 mm increments.
Low weights of the structure allows assembly by hand. This means that the formwork handler is in a position to effectively use crane non-availability in a productive way.
The panels are made of high grade steel which allows it to be durable and withstand up to 80kn/m².
The panels are faced with 15mm formwork plywood which gives it longevity and as well as the opportunity to change it when need be it.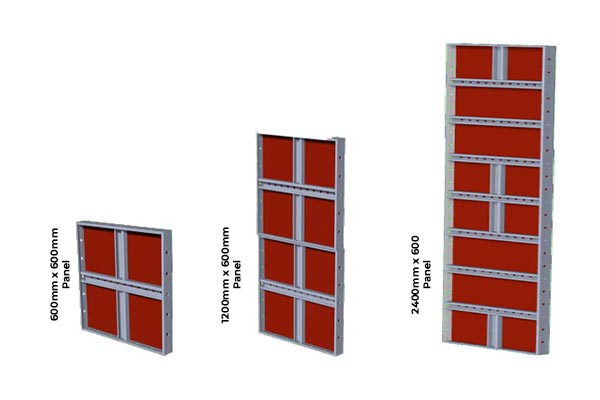 Components: